THE DVD is currently available for purchase on DVD,
found under the title 'ARTIFACT OF A LOVE' on Amazon.com!
"Cody Clarke is a brilliant independent filmmaker!
THE DVD is the Andy Kaufman performance of DVDs!"
- The Headless Critic
"New and visionary! Breaks all the walls!
Cody Clarke is a filmmaker that never ceases to surprise me!"
- Sylva Movie Critic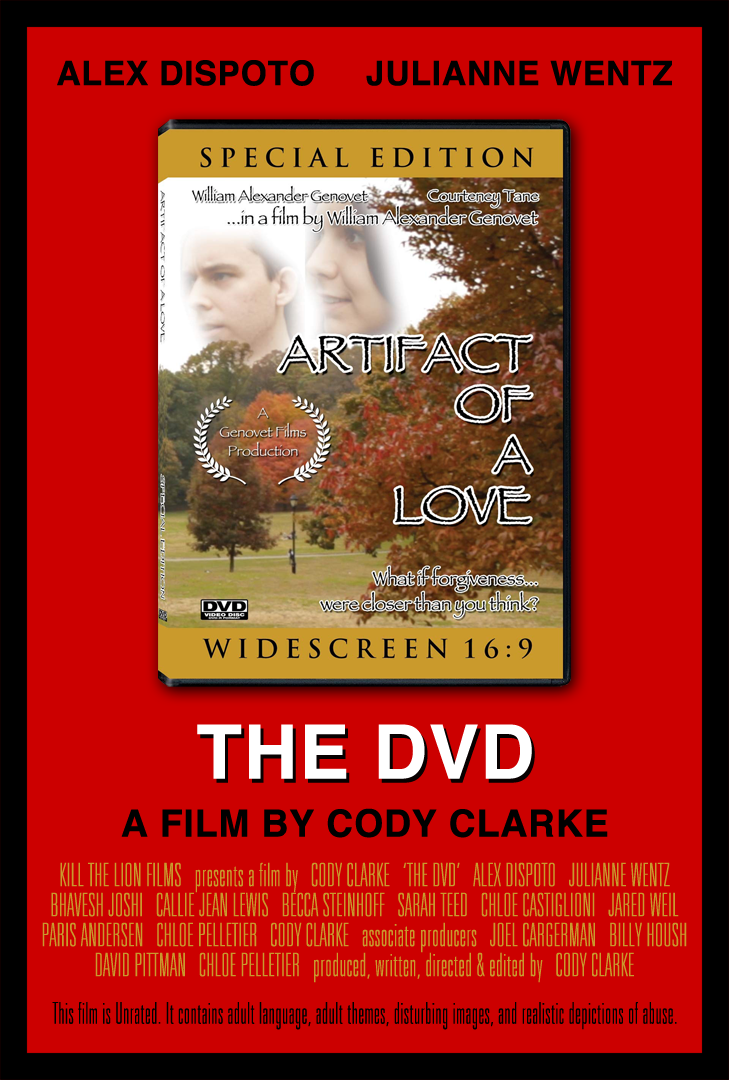 THE DVD (2019) is more than just Cody Clarke's latest feature film—it is an interactive experience and a groundbreaking new way to watch a movie. By exploring the contents of a DVD, viewers peel back the layers of an onion to watch a story unfold that realizes the full potential of physical media as a storytelling medium. Part drama, comedy, horror, and mystery—yet always grounded in realism—THE DVD is a genre-defier that will not be forgotten. And, with an ultra-micro budget of just fifty dollars, Cody Clarke once again proves that you do not need a big budget—or really, any budget at all—in order to do big things within the medium.
THE DVD is currently available on DVD on Amazon.com,
found under the title 'Artifact of a Love'. (77 min.)
Unrated. Contains adult language, adult themes, disturbing images,
and realistic depictions of abuse.

FULL CREDITS:
(Also available on IMDB)
Produced, Written, Directed
and Edited by
Cody Clarke
Associate Producers:
Joel Cargerman
David Pittman
Chloe Pelletier
Billy Housh
Cast & Camera Operators:
Alex Dispoto
as William Alexander Genovet
Julianne Wentz
as Courtney Tane
Bhavesh Joshi
as Sai
Callie Jean Lewis
as Myia
Becca Steinhoff
as Rachel Elstein
Sarah Teed
as Jackie Morony
Chloe Castiglioni
as Gwen Gilbert
Paris Andersen
as Georgia Byrd
Chloe Pelletier
as Cara McInnes / Person #2
Cody Clarke
as Person #1
Cinematography and Sound:
Cody Clarke

Special Thanks:
Valentino Peter Yung

This film is a
KILL THE LION FILMS
production
©2019 Cody Clarke